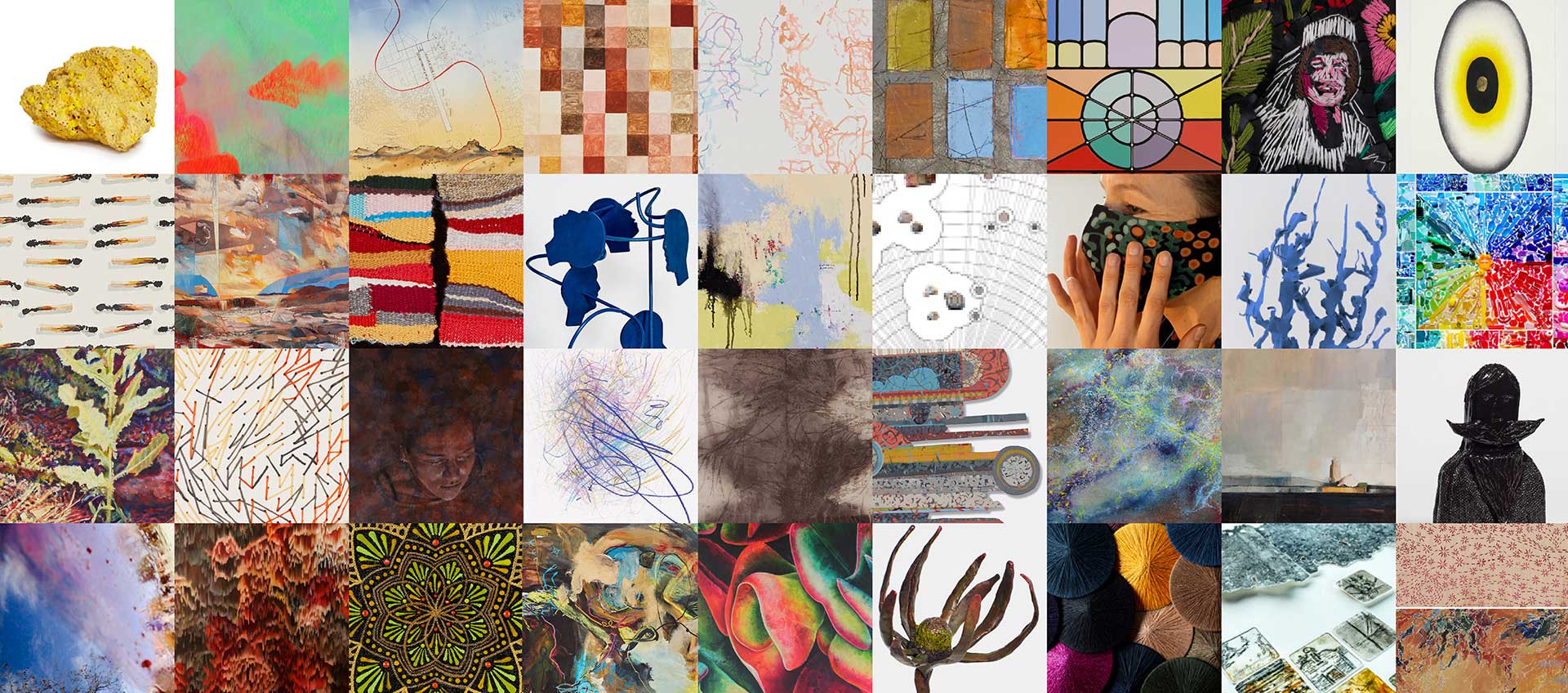 In Conversation with Colour Symphony
In Conversation with Colour Symphony opens a dialogue of 37 artist's responses to South African artist Michéle Nigrini's monumental colour theory panel produced in 1993. It marks the first of the Rupert Museum's public open calls and is done in collaboration with the Imibala Gallery.
This year marked a collaborative effort with the Imibala Gallery, with the Rupert Museum's first ever Open Call to artists, launched in September 2020.
The initiative was to use one of the most iconic pieces from the Rupert Art Foundation Collection namely Colour Symphony by South African artist
Michèle Nigrini for the public to respond to.
View Colour Symphony panel here
This collaboration aimed to introduce both established and upcoming South African artists to Graaff-Reinet. The exhibitions In Conversation with Colour Symphony and Outside In has a further reach as profits generated from sales will go directly into the Imibala Educational Fund.
The Open Call received 135 entrants, 37 were chosen by the judging panel as the most successful responses to Colour Symphony. The artworks are varied in style and across mediums, bringing a textured yet energetic feel to the exhibition. The visually arresting impact of all 395 individual panels that make up Colour Symphony, is balanced by a sharp and bold exchange from the responding artists' work. All the artworks on exhibition and listed in the catalogue are for sale, with the exception of Michèle Nigrini's – Colour Symphony.
Leoni Aucamp, Kathy Botha, Katherine Bull, Arabella Caccia, Fawa Conradie, Ronél de Jager, Eve de Jong, Klara-Marie den Heijer, Nontokozo Dladla, Johannes du Plessis, Evert Esterhuizen, Debra Field, Adela Friedmann, St. John Fuller, Michaella Janse van Vuuren, Beate Jordaan and Quinton Lehnert, Sandra Lemmer, Babette Ludick, Cecilia Maartens, Odette Marais, Sharle Matthews, Johann Moolman, Darshana Nagar, Tracy Payne, Nathan Petersen, Sonya Rademeyer, Mark Rautenbach, Hannalie Taute, Guy Thesen, Marinus Uys, Theodor Van der Merwe, Ariana van Heerden, Marelise van Wyk, Sassa van Zyl, Elizabeth Vels, Rix Welmann, Caroline Wheeler
All sales are subject to availability and will follow a first come first serve system. All technical information (medium, size, and selling price) for each artwork has been provided within the catalogue. Please note, that the specifications on size are the dimensions of the actual artwork (excluding the frame), unless specified differently.
All administration of sales are managed by the Imibala Gallery, Graaff-Reinet.
Please do not hesitate to contact Ros
+27 (0)87 285 4810
drostdy@imibala.com
Any enquiries on the artist, artwork size and aesthetics, please be in direct contact with Audré at the Jan Rupert Art Centre.
+27 (0)49 892 6107
janrupertcentre@telkomsa.net
To view the catalogue online click here 
To print the catalogue click here
To walk through In Conversation with Colour Symphony exhibition click here