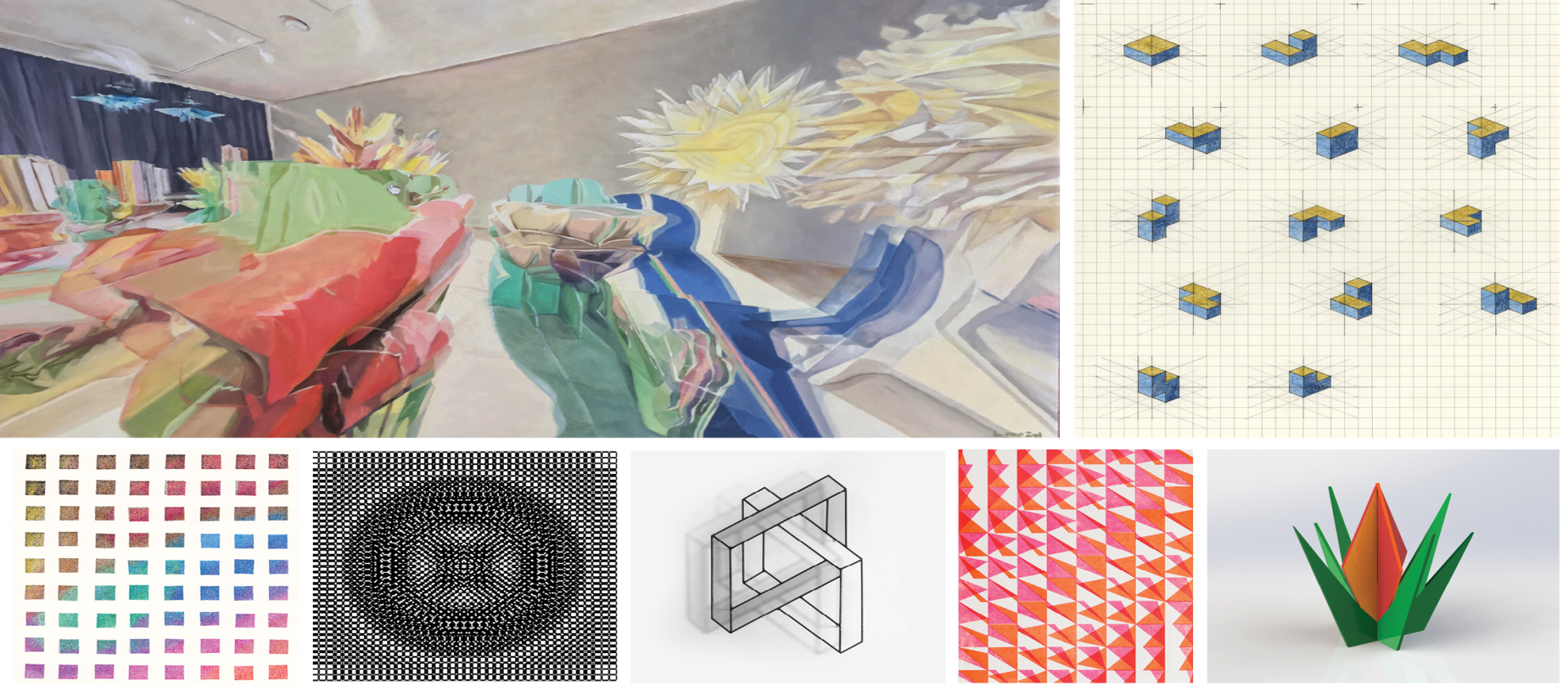 IN-RESPONSE: Art of the Space Age
During 2012-2015 the centre hosted the exhibition Art of the Space Age featuring the works of international artists Giacomo Balla, Victor Vasarely, Auguste Herbin, and Yaacov Agam amongst others from the Huberte Goote Collection. Works featured were abstract, bright, colourful, and energetic; through optical illusions and kinetic movement visitors were invited to question their eyes and doubt their perception.
IN-MOTION: Art of the Space Age a reworked exhibition featuring a bigger selection of these works opened end 2021 in Stellenbosch. With this, the second Open Call of the Rupert Museum was launched – inviting all creatives from any platform to respond to these iconic and ground-breaking inventions created in the eye of 1960s popular futuristic trends.
As a result, over 200 entries were received with the judging panel reaching a conclusion of 39 successful applicants whose responsive artworks are now the IN-RESPONSE exhibition. In summary, the pieces you are about to encounter provide a contemporary take and material-based approach to the icons that served as its inspiration. The artists sought symbolic meaning while exploring the possibilities of their chosen subject, material and its execution. Mediums include painting, printmaking, ceramics, textiles and digital displays with various materials from recycled plastic, wood and steel to the more traditional.
On the external wall of the centre and greeting you streetside is the mural and a proud collaborative effort with members of the community. The Ilukuluku Collective now features their permanent mural as landmark to the Jan Rupert Centre – the result of an outreach workshop with the Imibala Trust and 20 learners from the Isibane Primary School who worked to conceptualise and realize the designs.
Featured artists:
Amita Makan, Asha Zero, Bonolo Chepape, Cecil Cameron, Cecilia Maartens,
Collin Cole & Dina Kroon, Cornelia Wessels, Dal Botha, Diana Vandeyar, Dylan McGarry & Teyana Neufeld, Erna Ziegelmeier, Eve de Jong, Gaelen Pinnock, Heather Moore, Hendrien Horn, Herman Pretorius, Ilze-Mari Maartens, Jacky Lloyd, John Bauer, John Lizamore, Kiveshan Thumbiran, Louw van Zyl, Maré van Noordwyk, Monique Day-Wilde, Monique Etsebeth, Nicholas Hales, Nicki Friedlein, Oliver Mayhew, Paul Birchall, Pedro Malada, Primrose Charmz, Pyda Nyariri, Rika Haasbroek, Sheila Walwyn, Tony Pietersen, Torick Hatha, Yolandi Schreuder and Ilukuluku Collective.
We invite you to journey through this space to question, explore and engage. Each artists' statement about their response is expressed in the online catalogue.